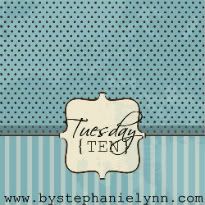 Here is my list of top ten things for the week. I am enjoying participating in this as is is making me use my camera more and capturing the little things in life again.
1. My favorite cleaning tool. One that I use multiple times a day. Can't stand crumbs on my bare feet!
2. Little girls who love to play with dolls, and pose for their momma for "just one more shot."
3. Homemade pretzels for Friday lunches with Poppa.
4. These four who were so excited to go swimming with their Poppa while I worked on some school planning.
5. Cardboard Boxes. Need I say more? :)
6. Puzzles on hot summer afternoons.
7. Fresh baked chocolate chip cookies that did not bake flat as pancakes.
8. A creek under the shade of trees on a hot day.
9. Children who love to play in creeks and crayfish hunt for hours.
10. Perfect photo opportunities that I will treasure forever. Thanks to Melissa over at
320 Sycamore
for the inspiration!