I'm telling you the older I get the faster I loose track of time. I can't believe August is almost over and I only made it to my poor neglected blog once. Are you ready for a long winded picture heavy post?
This month we went on vacation, and then the harvest was upon us. There is nothing like bushels and pounds of fresh produce to make one feel overwhelmed quick. I have been busy in the kitchen ever since. Even without a garden I have managed to put up more fruits and veggies than I had thought possible. I am so thankful for this as I love to have a full pantry and avoid the grocery store when I can.
As for our vacation, well that one has some stories that I am sure my children will never forget! We decided way back in January to meet up with some of our dear friends who live in Illinois. Ohio marks the halfway point for driving so we chose a state park on Lake Erie. Not wanting to drive the distance all in one day we made a stop in Western Pennsylvania as a state park there as well.
Our first stop was Fort Necessity where George Washington fought and the French and Indian War started. It is always amazing to visit these places in person so you can really get an idea of the size. This place was small for there to be 250 soldiers here. We had a great time learning more about the war.
We stayed the night at Ohiopyle state park and in the next morning explored the area. It is so beautiful in the Laurel Highlands!
We saw some interesting mushrooms on our hike along the river. I think I took about 50 photos of all the varieties.
Then later that day I went on a tour of Frank Lloyd Wright's Falling Water. That has been on my list of things to see ever since I studied about his designs in college. It was beautiful and fun to see it in person, amazing! I am not allowed to share photos online that I took but I can share this one of the exterior.
The next day we drove into Ohio and stopped to visit a blog
friend
. We had so much fun and had such a hard time leaving!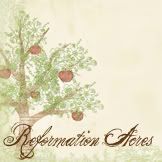 Finally we made it to Lake Erie!
On the first day we went to the lake to swim. The weather was perfect!
That night it rained. We were well prepared and stayed dry. We woke up made breakfast, cleaned up and then sat down to discuss what were were going to do for the day when it started to rain again. Not 5 minutes later the tornado sirens went off. We ran to the bath house as fast as one can with 9 children in tow. We ended up spending the day at Wal-Mart and the bookstore to pass the time as it poured and caused flash flooding. When we finally got back to our campsite it looked like this!
This mixing bowl was in the dining tent and it was dry when we left.
We ended up moving campsites to one on higher ground and not underwater.
The next day we took the hike were were planning. The Lake is very pretty and the lily pads are everywhere.
This photo is one of those that I will treasure forever. First off we asked a woman from another campsite to come over and take a picture. She only took one. In one shot she managed to capture EVERY child cooperating and looking at the camera, and smiling. That never happens!
We had such a good time! It was a wonderful and much needed vacation. Our friends are some of the first people we met when we moved to Illinois. Our oldest boys are 4 months apart. Owen is three days older than Elita, and Fiona and Campbell are 6 weeks apart. We used to spend hours together when the children were little often gathering for dinner and evening chats. It was amazing to see that even after 4 years there was no hesitation among the children, they just jumped right in as if they see each other all the time. We sure miss them!
We then drove home 8 hours and real life began again. The End.